New hydraulic clutch line
The flexible clutch line was beginning to look a bit tatty so I was looking for a replacement. I wanted it to be steel braided, but should I use AN-3 or AN-4 ?
I remember on my MGB the clutch line has a larger bore than the brake lines.
The original Lotus hose is very close to AN-3. But Aeroquip recommend using AN-4 for flexible clutch lines and AN-3 for brakes. The nominal bore for AN-3 is 1/8" (3.2mm) compared to AN-4 which has 3/16" (4.8mm) bore - 50% difference.
I have chosen to follow Aeroquips recommendation, but I must admit - I haven't noticed any difference - the pedal is as hard as ever.
Anyway replacing the cable was a vice move, because when removed - it broke. The plastic has become brittle after all those years.
The thread in both cylinders are 3/8"x24 UNF. The male/male adapter -3JIC to -4JIC was a bit hard to find in Stainless Steel, but
Think Automotive
has a good supply of fittings. The adapter goes into the master cylinder followed by the swept 90 deg. female fitting. The long 3/8" banjo bolt goes into the slave cylinder along with the standard -4 banjo fitting.
| | | |
| --- | --- | --- |
| Description | Part No | Vendor |
| Adapter M/M -3JIC to -4JIC | MMSS7-3-4 | Think Automotive |
| Swept 90 deg female -4 | 6091-4C | Demon Tweeks |
| Hose-4 | TFE4 | Think Automotive |
| Banjo fitting 3/8" bolt for -4 hose | HETBANSS-3-4 | Think Automotive |
| Long Banjo bolt 3/8" UNF | BBSSL-3 | Think Automotive |
| 3/8" copper washers (3 pcs.) | WC-3/8 | Think Automotive |
All fittings are stainless steel.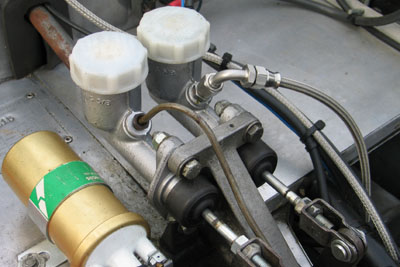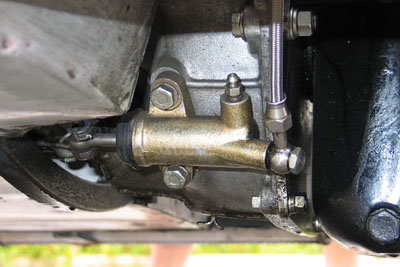 Slave Cylinder Bleeding
When working on the clutch slave cylinder getting the air bled can be a problem. The easy way is to make sure the master cylinder is full, and the slave cylinder, while not attached to the car, is fully extended. A discrete shot of air from the air hose works well. Keep the reservoir level low. Next, fill the slave cylinder completely full with fluid. Then attach the slave cylinder to the hose with all of the fittings tightened. Now, with the slave cylinder hose attachment pointing up, push the push rod fully into the cylinder pushing as much fluid (and air) into the reservoir as possible. Now fill the reservoir, and pump enough fluid into the slave cylinder to compete mechanical hook up, and check the fluid level.