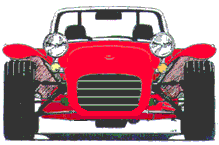 Lotus links in Danish:
Technical:
Foreign vendors:
Other interesting Lotus links:
Fun stuff:
LOTUS BOOKS
LOTUS SEVEN - RESTORATION / PREPARATION / MAINTENANCE by Tony Weale
Simply the 'bible' - every owner should have one. I cannot recommend this high enough. Lots of line drawings and numbers. Good for the Series IV as well. Available from Lotus Books.
Magnificent Seven Lotus Caterhams
by Chris Rees
An excellent coffee table book that features every variation of the Seven (be it Lotus or Caterham) in chronological order.
Nice pictures - Good value.
The Lotus & Caterham Sevens
by Jeremy Coulter
Second edition now dedicated to the Lotus cars alone. A good first book on the subject.