Make: Lotus
Type: Seven Series 2
Year: 1962
Chassis No.: SB 1215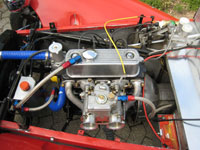 Engine:
Type: BMC A
Capacity: 1275 ccm
Camshaft: Kent MD266 (Sport/Fast road)
Carburation: Weber 45DCOE, for jetting see here.
Backplate: Replaced with an alloy one, about 2.5kg saved.

Click on picture to see a larger view

Transmission:
Gearbox: BMC Midget/Sprite (ribbed)
Rearaxle: Standard 10 (Was 4.55 : 1, Now 4.11 : 1) see rear axle

Wheelbase: 88" (224 cm)
Overall length: 132" (335 cm)
Curb Weight: 960 lbs (435 kg)


Brick-like aerodynamic qualities limit the top speed to just around 160km/h (100mph).
The drag coefficient is around 0.7, mostly because of the flat windscreen and the long wheel arches.
But in 0-100km/h timing it would out-accelerate a Jaguar E-Type.

Rumor is that the Seven was banned from competition in the US in the 1960s for being "too fast to race".


'motorcycling on four wheels' is a common description
Oil:
Midget gearboxes require a good quality classic specification oil such as Castrol XL 20w/50. Do not use Hypoid oil of any kind. It will damage the internal parts. The oil capacity is 1,3 liter (2,25 pints).