The wiring loom has more or less been revised with new wires following the original Lucas colour code. I have used thinwall cable from Vehicle Wiring Products.
The plastic flick switches of unknown origin has been exchanged with metal lever switches in good quality. Note the non-original steering wheel, it is only 265mm in outer diameter and problably comes from a gokart.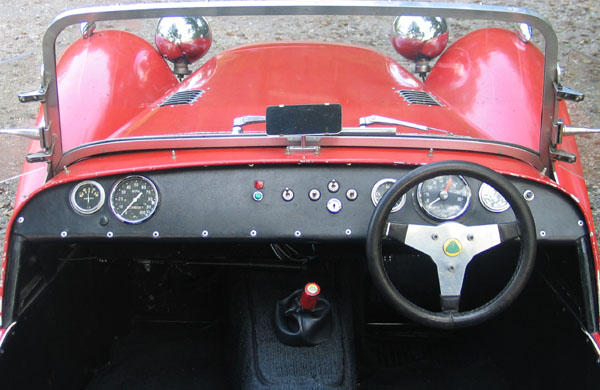 The ignition warning light indicates any problem with the charging - except in the RAREST of circumstances. AMMETERS connected into alternator circuits provide at least two more connections which can corrode and cause the alternator to fail. Therefore the AMMETER has been disconnected, when
dynamo to altenator conversion
was made.
My future plan is to reorganise the layout, include a battery cut-off switch and a push-on start button to eliminate the starter switch on the firewall. The speedometer will be moved from the "passenger frightning" position.

Instruments page
Instruments
A little more about
Lucas electrics